Reliable Pest Solutions For Edenton, North Carolina Home & Business Owners
Edenton, North Carolina is a small town with all of the charm that the Carolinas have to offer. Situated on the Albemarle Sound, residents enjoy the smell of saltwater and the sound of seagulls with stunning harbor views. This picturesque town hosts an abundance of homes and commercial properties and welcomes tourists to explore the area. People visit to enjoy the hot summers and mild winters, and as a result of this favorable climate, bugs, rodents, and other pests thrive. Like home and businesses all across the country, residents of Edenton experience the daunting task of eliminating unwanted pests.

While any kind of pest in your building or home is frustrating, some pests are only a nuisance while others can do a lot of structural damage or even endanger your health. Trying to get rid of pest infestations is much easier when you have the help of experienced professionals at Albemarle Termite & Pest Control on your side.
Home Pest Control In Edenton, NC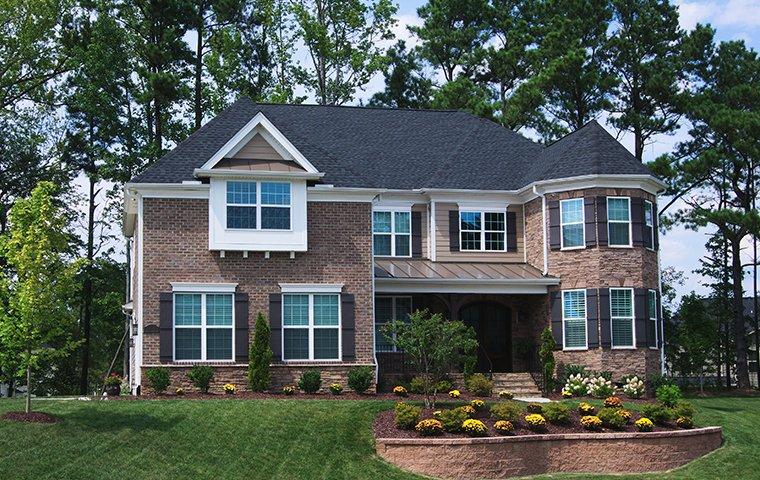 If you're a homeowner, you've likely experienced the frustration of finding evidence of pests in your home. Rodents, ants, wasps, cockroaches, or other unwanted critters are stressful to deal with and sometimes impossible to eliminate completely without help from a professional.

If you're waging war against pests in your home, be aware that some are simply a nuisance while others pose more serious threats to your health and property. Most often, pests will plague Edenton homeowners by:
Causing health issues such as allergic reactions or asthma attacks.

Spreading diseases by contaminating surfaces and food sources.

Causing structural or electrical damage by chewing or burrowing through wood and drywall.

Ruining furniture or insulation by urinating and nesting.
Many pests are hard to identify or eliminate without professional help. Albemarle Termite & Pest Control is locally owned, family operated and has over 100 years of experience in the pest control industry. We offer monthly, bi-monthly, and quarterly residential plans that target over twenty pests likely to invade the interior and destroy the exterior of your home. We will work with you to ensure that you have the services you need to rid your home of unwanted pests. Contact us today for a free inspection and estimate!
Commercial Pest Control In Edenton, NC
If you're a business owner, the last thing you need are pests destroying your property and your reputation. Pest infestations in a commercial building often come with complex challenges and need to be dealt with quickly, regularly, and delicately.

As a business owner, you don't want your customers turned away at the sight of a mouse scampering across the floor or an ant crawling along a desk. It is not only unsavory, but it's also unprofessional. That's why our experts at Albemarle Termite & Pest Control can help you tackle an existing pest problem or implement the measures needed to prevent a future one.

Don't wait until its too late - pests can cost you thousands of dollars in damages, resulting in safety violations, and turn away customers. We will inspect your property, create a plan, and communicate with you regularly about our process. Also, we provide emergency after-hour availability to ensure that you have help when you need it. Whether your experiencing issues with ants, mice, termites, bed bugs, fleas, wasps, spiders, carpenter ants, cockroaches or other unwanted pests, we will work with your unique situation and your schedule to discreetly eliminate the problem. As always, our initial price is our guarantee. Contact us today for an estimate.
Who Else Wants To Avoid Flies In Edenton, NC?
Flies are extremely annoying. They buzz around your head, land on your food, multiply quickly, and are difficult to kill. When you have flies inside of your home or business, they're a nuisance, especially when they buzz around in large numbers. Furthermore, these insects spread germs as they move from place to place and feed off of leftovers on your counter or in your garbage.

Though flies are difficult to control, there are some measures you can take to keep them from getting out of hand in your Edenton home or business.
Flies are attracted to left-over food. Keep your trash sealed up to deter them from feeding off of your scraps.

Flies are attracted to feces. Be sure to eliminate pet waste from your property, especially if it's close to your structure, immediately.

Flies will find their way inside through small openings. Be sure there aren't any holes in window and door screens.

Flies will feed off of leftover crumbs. Clean your floors and countertops regularly to eliminate this food source.
If flies are becoming a problem you can't control, our professionals at Albemarle Termite & Pest Control will inspect your property and come up with a solution that works for you.
The Secret Of Avoiding Bed Bugs In Edenton, NC
Bed bugs are one of the most awful pests to deal with. They come into your home or business undetected, bite their victims throughout the night, and are extremely difficult to eliminate. They may find their way into your home or business in spite of your best efforts, but there is hope. There are some measures you can take to prevent a bed bug infestation in your Edenton home or business:
If you purchase products second hand, check the seems carefully for white eggs, shed exoskeletons or bed bugs.

Use a cover for your mattress.

Vacuum regularly and keep your home clean.

Avoid clutter as it can give them a good place to hide.

Put door sweeps on the bottom of your doors, especially in apartment complexes.

Avoid putting your belongings on the ground when using public transportation or visiting another home or business.
Even with using prevention methods, bed bugs may still find their way into your home or property. Our experts at Albemarle Termite & Pest Control have the experience to effectively remove them and put your mind at ease. Contact us today to speak with one of our friendly representatives.
Begin Hassle-Free Service Checkout
Complete the form below to schedule your no obligation inspection.